DANIEL DAE KIM
Choosing It All / Part 3

Article written by Christine Berni
TALKING ABOUT THE FUTURE, where would Daniel like to be in 5 years? What would he like to have achieved by then? "That's a really appropriate question for this time of year. I would like to have had a little visit from the good fairy you mentioned by then. Really. I would love to be in a place where I could choose my projects in different media, and be in a position where I could provide stability for my life and those around me."
FROM DANIEL'S MOUTH TO THE GOOD FAIRY 'S EARS...
Filmography
Excerpt of the complete filmography at http://www.danieldaekim.org
Movies and TV
Sin (2001, not yet released)
C.S.I. - Crime Scene Investigation episode: "Ellie" (12/06/2001) (TV series) ... Special Agent Beckman
Charmed episode: "Enter the Demon" (10/18/2001) (TV series) ... Yen Lo
Angel (2001) (TV series; recurring character) ... Gavin Park
So far Daniel appeared in the following episodes:
"Over the Rainbow" (5/8/2001)
"That Vision Thing" (10/01/2001)
"Carpe Noctem" (10/15/2001)
"Billy" (10/29/2001)
"Quickening" (11/12/2001)
"Lullaby" (11/19/2001)
"Dad" (12/12/2001)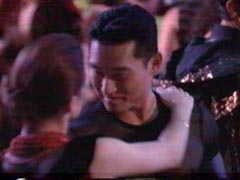 Brave New World
Murder, She Wrote: A Story to Die for (2000) (TV) ... Everett Jay
Star Trek: Voyager episode: "Blink of an Eye" (episode # 6.12) (1/19/2000) (TV series)... Gotana-Retz
Walker, Texas Ranger episode: "Lynn Sisters, The" (10/30/1999) (TV series) ... Kahn
Crusade (1999) (TV series; series regular) .... Lieutenant John Matheson
For Love of the Game (1999) .... ER Doctor
Fantasy Island "Dreams" (11/7/1998) (TV series) .... Businessman
Ally McBeal episode: "Inmates, The", crossover with Practice, The episode: "Axe Murderer"4/27/1998) (TV series) .... Police Officer
Pretender, The episode "Collateral Damage" (1/23/1998) (TV series) .... Le Xuan Duc
Looking for Bobby D (1998) .... Gay Timmy
No Salida (No Exit) (1998) .... Hu-jan
Brave New World (1998) (TV) .... James Ingram
NYPD Blue episode: "It Takes a Village" (11/4/1997) (TV series) .... Simon Lee
Beverly Hills, 90210 episode "Forgive and Forget" (9/17/1997) and "Way We Weren't, The" (9/24/1997) (TV series) .... Dr. Sturla
Jackal, The (1997) .... Akashi
Law & Order episode: "Golden Years" (1/5/1994) (TV series) .... Harry Watanabe
American Shaolin (aka No Retreat, No Surrender 5; King of the Kickboxers 2) (1991) .... Gao
Theatre - Off-Broadway
Hamlet by Shakespeare (June 2001) ... Director
Golden Child by David Henry Hwang produced by East West Players (Jan-Feb 2000) ... Ein Tien-Bin/Andrew (lead role) and a second role as Bin's modern-day grandson
Cockroach Nation by Matt Pelrey, reading for Lodestone Theatre Ensemble (December 1999) ... Boone
Home is Where the Han Is by Philip W. Chung, reading for Multicultural Reading Series at Los Angeles Theatre Center (April 1999) ... unknown
The Chang Fragments by Han Ong produced at the Public Theatre (1996) .... Bruce Chang
The School for Wives by Moliere produced by New York's National Asian American Theatre Company (NATCO) (1995) - A French Comedy ... young male ingenue Horace
A Doll's House by Ibsen produced by Pan Asian Repertory Theater (1993) .... Torvald Hwang
Romeo and Juliet produced by Theatre for a New Audience (1991) ... Paris
Gravity Falls from Trees produced by DTW/Lenora Champagne (date unknown) ... Dr. Park

Fantasy Island
Theatre - Regional
Most at New York University's Tisch School of Arts (1993 - 1996)
Cymbeline by Shakespeare .... Posthumus
A Midsummer Night's Dream by Shakespeare .... Puck
Yankee Dawg You Die by Philip Kan Gotanda .... Bradley
The Hot L Baltimore .... Paul Granger
The Winter's Tale by Shakespeare .... Leontes
The Cherry Orchard (1993) by Chekhov
The Three Sisters .... Andrei
Les Liaisons Dangereuses .... Valmont
The Ride Across Lake Constance .... Von Stronheim
Trojan Women .... Poseidon
Ubu Roi .... Capt. Bordure
Ah, Wilderness
Thanks
The author would like to send a most heartfelt and sincere "Thank you!" to Fiona for editing, to Rebekah for encouraging and helping in countless ways, and last but not least to The Man Himself, for so graciously agreeing to answer her questions!
Angel and Charmed images courtesy of Rebekah, http://www.danieldaekim.org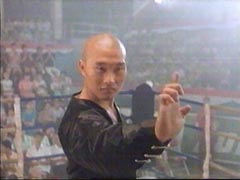 American Shaolin
Author's Short Bio
Christine Berni, a.k.a. Chris to her internet friends, is neither Asian nor American, but half Swiss and half Italian. At first glance quiet and reserved, her Italian temperament comes through when she gets excited about something. She is earning her living in Switzerland as a secretary, and spends most of her free time on a variety of creative endeavors. As a self-declared night creature, Chris usually spends weekend mornings in bed.
Chris discovered Daniel Dae Kim in Crusade, after she got the series on video tape from a fellow Gary Cole fan in the USA. Kim's Lieutenant Matheson quickly caught up with Cole's Captain Gideon on Chris's popularity meter. Her curiosity about this talented young actor piqued, she immediately started searching the internet, where she got some first leads and met other "DDK" fans. Chris has since caught up on his projects as much as possible from across the big pond, and is happy to say she's indebted for life to the webmistress of http://www.danieldaekim.org.
Despite a life-long love of writing, this is the first time Chris has written and published an article.
Click HERE to return to Part 1 and HERE for Part 2

Any questions regarding the content, contact Asian American Artistry
site design by Asian American Artistry
Copyright © 1996-2003 - Asian American Artistry - All Rights Reserved.