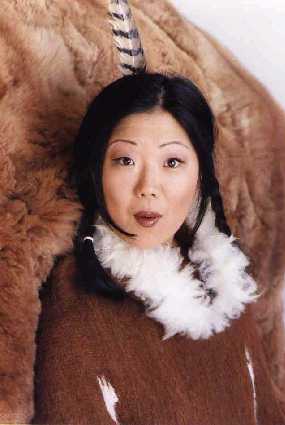 MARGARET CHO'S parents left Korea in 1964 to live in America. They had a hard time adjusting. Margaret's Korean name is Moran and she was born on December 5, 1968 in San Francisco, California. She inherited her father's eyes and her mother's eating disorder. She grew up in the Polk-Haight area. Some people are raised by wolves, she was raised by drag queens. The smell that takes Margaret back to childhood is balls in pantyhose. Margaret used to dream of being constantly surrounded by gorgeous men, and she is. Due to these factors, Margaret is the biggest faghag ever.
In case you were wondering, Margaret is Connie Chung's slutty younger sister. She is not a fat person, she just has fat parts and the biggest pubic mound in the whole world. However, Margaret does hold the secret to quick weight loss. Although she likes everything about sex except the penetration part, she is not a lesbian. Margaret grew up in a diverse community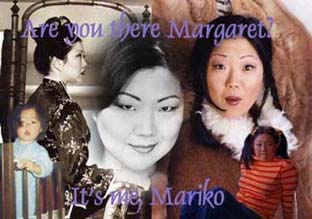 and when there are no other Asians around she feels uncomfortable. As young as Margaret is, she once had to pass a kidney stone. At the hospital she met the ever lovely Gwen but didn't get her business card.
Margaret's parents owned a bookstore (her mother was in charge of the gay porno section). Margaret's early routines were heavily based on growing up with Asian immigrant parents and other members of her family, (her ex-surfer born-again brother, her sleepy bingo playing grandmother, her mother who thinks she's one big cherry and gay). Margaret once enjoyed drugs but quit, because, like a lot of us, she could no longer pretend her dealer was interesting.
Margaret performed at local clubs in San Francisco (even the one above her parent's bookstore, where she would do sets on during her bookstore breaks). Eventually Margaret moved on to television and appeared on all sorts of comedy and late night talk shows, as well as thoroughly working the club circuit. She quickly gained comedic celebrity status and was rewarded with her own sit-com, All American Girl. It was short-lived though. It ran from September 1994 through March 1995. Margaret has stated that higher powers watered down the Asian-ness of the show. She has also said she would like to try television again and that this time she has a great comedic writing partner in Karen Kilgariff. Read what AsiaWeek wrote about her, or what the San Diego Union Newspaper said!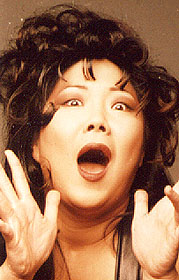 Margaret has been a Los Angeles resident since 1992. She co-hosted the Friar's Club Roast for Drew Carey in New York (the first time the Roast had been televised).
During that time she also appeared on the Daily Show (scored a 4 on the '5 Questions' segment). Comedy specials featuring Margaret that are still being re-broadcast include: Comics Come Home 3, Pulp Comics, Comedy Showcase, etc.
One day, Margaret will have her own fragrance to market.
Click HERE To find out where Margaret is performing!



There are a number of articles written about Margaret that are listed below. They are as follows:
Click HERE to read a recent article on the GURL! When you have the time, visit her "official" website HERE.
She also has a c.d. of her comedic craziness that can be purchased by clicking HERE. In the meantime, read a recent article in US Today, learn a little gossip on her, enjoy some additional info on Margaret and be prepare to laugh your brains or to cry a little. OFF!?!
NEWS ON HER ON-GOING SUCCESS
(click HERE for additional, specific and future information):




Any questions regarding the content, contact Asian American Artistry
site design by Asian American Artistry
Copyright © 1996-2001 - Asian American Artistry - All Rights Reserved.