DANIEL DAE KIM
Choosing It All / Part 2

Article written by Christine Berni
ANOTHER OF DANIEL'S TALENTS was brought to the attention of a bigger audience in the Star Trek: Voyager episode, "Blink of an Eye". In that episode, Voyager is trapped in orbit around a planet where time was rapidly accelerated in relation to the rest of the universe. Daniel played Gotana-Retz, a pilot from that planet who sacrifices years of his life to help Voyager break free. While telling Voyager's Captain Janeway about his life and his planet, he sings a child's prayer to the 'sky ship,' Voyager, which had been in their sky for centuries. How nervous did the singing make him? "It didn't make me nervous at all, actually. It was my choice, in fact. The speech wasn't written as a song, but I thought it sounded like a children's lullaby, so at the audition I made up a melody to go with it. The producers liked it, so it stayed in. I'm not the best of singers, but that hasn't stopped me before."
DID HE EVER HAVE TO SING in any other role before this one? "I've mangled many a quality tune in my day... My favorite musical experience was a Cabaret that I performed in while I was still a student in NYU's MFA program. It's put on every year during the holidays, and it's just a great time." And did he get to dance too? "Sure did. Singing, dancing, the whole nine yards!" Despite Daniel's humble self-assessment of his singing, he might have made a career out of it, according to his former New York theatrical agent, Beth Schacter. A few years ago, Schacter was quoted as saying, "If Daniel sang he'd be a Broadway star." Looking at how his career has progressed over the last years, Schacter now adds, "As it is I would have guessed he'll be a TV and film one anyway. Turns out I was right on one front." And as hard as Daniel is working, he may become a star in all of the above.
Lt. John Matheson (series regular on Crusade)
Excerpt of the Lt. Matheson page at http://www.danieldaekim.org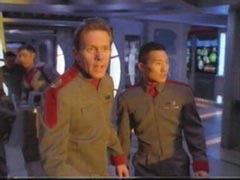 Crusade episode "Each Night I Dream of Home" (with Gary Cole)
Since the end of the Telepath War, and society's realization of the destructiveness of shutting all the telepaths away in one place together, the Psi Corp has been disbanded and there is an effort to integrate telepaths back into "normal" communities. John, who has a telepath "power" rating of P6, follows the New Rules for Telepaths as carefully as he can. There is a Telepath watchdog sent every six months to check on him and make sure he sticks to those rules. The experience is rather unpleasant.
Crusade's creator JMS had the following to say about Daniel's portrayal of John Matheson: (August 18th, 1998) "Daniel Dae Kim as Lieutenant John Matheson brings an unexpected intensity to the part, a seriousness and earnestness that is simultaneously endearing and sobering: you know that if he said he would plant his feet on the bridge and await your return, that you could go away for two weeks, and he would still be there, just as you left him, and woe to anyone who tried to move him off that spot."
John Matheson quotes:
"How odd to know everyone's heart but my own."
"If they begin firing on us, should I tell them to come back in the morning when we're all fresher?"
"You like going nowhere at 120 miles an hour?"
"You asked if I ever had dreams about life outside the Corps? Ever since I was a little kid, I wanted to be in Earth Force. To be on a starship, exploring the unknown."
STAR TREK: VOYAGER wasn't the first time Kim ventured into Science Fiction. His so far most expansive role was as Lt. John Matheson, the telepathic Executive Officer of the spaceship Excalibur in the Babylon 5 spinoff Crusade (see box). As a telepath, Matheson suffered from other's prejudices. Does Daniel feel that growing up as an Asian in the US helped him for that role? "I do, but I think it's more than about just being a racial minority. I think most everyone has had an experience where they were the outsider, and that their actions were being scrutinized because they were a minority of some kind. That dynamic, more than anything, was at the heart of John Matheson's character."
IS THERE A PARTICULAR FAVORITE among the roles Daniel has played so far in theater, movies, and TV? "I really have to say that I've enjoyed all the characters I've played in one way or another. Otherwise, I wouldn't have chosen to do them!" He adds, "That said, I do have a special place in my heart for the Shakespearean roles that I've played."
WHEN I ASKED if there is any role in movie history, which he would absolutely die to take on, if a remake was made, his reply was, "That's a good question. I'm not sure, really. Maybe you could help me out by telling me what roles YOU'D like to see me play!"
PERSONALLY, one role I'd really love to see Daniel play is Valmont in Les Liaisons Dangereuses, since he already did that on stage at NYU. It would be very interesting to compare Daniel Dae Kim's approach to that of John Malkovich. There are also regular complaints from his female fans about the lack of a romantic role in his filmography so far. Also, Daniel is able to convey emotions so well, especially with his voice and eyes - that's why his short but complex guest role in the Pretender episode "Collateral Damage" is among my favorites. So I would love to see him in a role which would allow him to go through a broad spectrum of emotions. "I have to say I totally agree with you. I'm waiting for the role that will let me show the entire range of emotion as well. I'd really love to play a romantic lead, maybe in a comedy, especially because I've been playing so many "heavies" recently. I've been able to on stage, but it's harder for an actor of color to get those kinds of roles the way show business is today. Let's hope that changes in the future."
To continue, click HERE.

To return to Part 1, click HERE.





Any questions regarding the content, contact Asian American Artistry
site design by Asian American Artistry
Copyright © 1996-2003 - Asian American Artistry - All Rights Reserved.