SPECIAL FEATURES
Philip Ahn
Tia Carrere
Margaret Cho
Church of Rhythm
Hiroshima
James Hong
Michael Kang
Bruce Lee
Jet Li
Keye Luke
YoYo Ma
Martial Law
Minoru Miki
Lea Salonga
Dalip Saund
George Takei
Tamilyn Tomita
Ming-Na Wen
Anna May Wong
Russell Wong
HOME

SECTIONS
Actors
Actresses
Astronauts
Athletics
Authors
Business People
Cartoonists
Community Leaders
Dancers
Directors
Fashion Designers
Film Festivals
Military
Musicians
Newscasters
Politicians
Television Shows
ISMAIL MERCHANT
Merchant Ivory Productions

Article written by Christine Berni
THERE IS MUCH MORE to Daniel Dae Kim than his good looks and charm. This up and coming actor has talents ranging from the stage to the big screen, from teaching to directing, from Science Fiction to Shakespeare.
THE YEAR 2001 was a busy one for Korean American actor Daniel Dae Kim. In the last half year alone, he had guest appearances on TV in Charmed and CSI, landed a recurring role as an evil lawyer on the popular WB series Angel (see box), and has just finished shooting a movie called Sin with Gary Oldman and Ving Rhames. Not bad at all for someone who had taken the previous year out to do a job in the business world.
Ismail Merchant Thoughts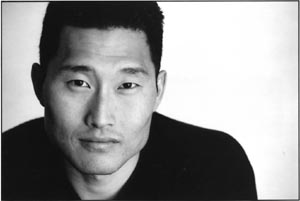 Daniel Dae Kim
Producer's Role
Ismail states that a producer's role (in his book) is to hustle for funds, talent, exhibition space and more funds.
Career
In a career spanning three and half decades, Merchant has made some 40 feature films, many of them collaborating with director James Ivory and writer Ruth Prawer Jhabvala. The actors who have featured in his film include Vanessa Redgrave, Isabelle Adjani, hristopher Reeve and Emma Thompson.
Milestones
Some of the best Merchant-Ivory offering are adaptation of E.M. Foster's "Room with a view of Kazuo" and Ishiguro's "Remains of the day" besides Roseland and "Heat and Dust"
Review of Life
The Mumbai-born Merchant entertains even when not making a movei. All he needs is few friends and a copy of his Passionate Meals: The New Indian Cuisine For Fearless Cooks and Adventurous Eaters.
Merchant Ivory's Adventurous Philosophy
`…if you want something badly enough then you simply hoist your sail and steer a course towards it.'
"The language of cinema is not indigenous to one particular place. If you have an emotional language that you can share with people, it will cross boundaries."
WHEN AS A YOUNG ADULT, Daniel decided to pursue acting, his parents were initially less than thrilled. When I asked if he could give any advice to young people who want to pursue a career that their parents don't agree with, Daniel's answer was, "Communicate. Relationships with parents are fragile, precious things, and I can't imagine my life without their support. I also think that ultimately what every parent wants is for their children to be happy, so if the child's choice is truly well thought out, sometimes just communicating that in an honest way that can serve as a beginning to a resolution. I don't want to preach, though. It's a very tricky issue - I know from experience!
IT MUST HAVE BEEN especially difficult for Daniel, since even though he'd chosen Theatre as his second major at Haverford College/Bryn Mawr College, he hadn't really considered an acting career: "At the time I didn't think I absolutely had to be an actor. When I was actually faced with offers from investment banks and law firms though, I knew it didn't feel right. Looking back at it now, I still think it was the right choice - and I know I would have regretted not choosing acting had I gone into one of those other disciplines. On the other hand, life is long. Who knows where any of us will be in ten years, right?
FILMOGRAPHY

Angel episode "Billy" (with Stephanie Romanov)
Le Divorce - 2003 ****
The Golden Bowl - 2000 ****
A Soldier's Daughter Never Cries - 1998 ****
Gaach - 1997
The Proprietor - 1996 *
Surviving Picasso - 1996 ****
Feast of July - 1995
Jefferson in Paris - 1995 ****
In Custody - 1994 *
The Remains of the Day - 1993 *** (based on the story from Anglo-Asian writer Kazuo Ishiguro)
Howards End - 1992 **
The Ballad of the Sad Café - 1991 ****
Mr. and Mrs. Bridge - 1990 ***/****
Slaves of New York - 1989
The Perfect Murder - 1988
The Deceivers - 1988
Maurice - 1987 ****
A Room with a View - 1986 **
The Bostonians - 1984 ***/****
Courtesans of Bombay - 1983 *
Heat and Dust - 1983
Quartet - 1981
Jane Austen in Manhattan - 1980
The Five Forty-Eight - 1979
The Europeans - 1979 ****
Hullabaloo Over Georgie and Bonnie's Pictures - 1978
Roseland - 1977
Sweet Sounds - 1976
The Wild Party - 1976 ****
Autobiography of a Princess - 1975
Mahatma and the Mad Boy - 1974*
Helen Queen of the Nautch Girls - 1973
Savages - 1972 ****
Adventures of a Brown Man in Search of - 1972
Bombay Talkie - 1970 ****
The Guru - 1969 ****
Shakespeare Wallah - 1965 ****
The Delhi Way - 1964
The Householder - 1963
Creation of Woman - 1960 ***
The Sword and the Flute - 1959
Venice: Theme and Variations - 1957 * Directed by Ismail Merchant
** Academy Award winner
*** Academy Award nominee
**** Producer

Angel episode "Billy" (with Stephanie Romanov)
It says a lot about Gavin's inventiveness that he managed to get a surveillance system installed at the old hotel where Angel lives, which gave Wolfram and Hart crucial inside information. We can be sure that Gavin will come up with yet more devious plans in the future.
So far, it's not clear where Angel's creators are going with Gavin Park, but hopefully they will reveal more about him as the season and the series go on.
Gavin Park Quotes:
"Very well. We'll contact your real estate company and notify them of your noncompliance. They should send you a notice of obligation and, after that, if you still refuse to cooperate, well, I'm sure that somewhere in your lease agreement, there must be one or two loopholes to be ... exploited."
"You're a tough one. I know I'm gonna have to earn your respect. But give me a little time, you'll see I'm a creative guy."
"We? There is no 'we'! I decided it was time you understood the full scope of what I've been doing these past few months."
HIS GROWING FAN BASE surely hopes that "DDK's" career will continue to prosper. But if things go according to Kim's wishes, that career may not be in acting alone. In spring 2001, he ran a workshop on acting in Shakespeare, and subsequently directed a production of Hamlet in Los Angeles. Daniel was able to draw on his extensive theatre experience, both as actor and director. "I love teaching, and I love directing for the stage. It's exhilarating. Somehow I find that I have much more energy as a director than as an actor. It's definitely something I hope to continue."
SO IF A GOOD FAIRY offered him a free choice and guaranteed life-long success at whatever he chose, would Daniel prefer to act, direct, or teach, or all of the above? "Ahhh, if only... Actually, I would choose all of the above, and since we're fantasizing here, I'd also ask the fairy to help me be a success as a son, a father, a brother, a husband, and a friend as well."
DANIEL DAE KIM'S largest role so far is as Lieutenant John Matheson on the Babylon 5 spin-off, "Crusade". The series is no longer on the air, though there is a viable effort to convince the Sci-Fi Channel to pick it up to go with its Babylon 5 screenings. Babylon 5 and Crusade's creator, J. Michael Straczynski, did not have a great deal of time to flesh out Lieutenant Matheson's character before Crusade was cancelled. Crusade ran a total of thirteen episodes.
CRUSADE is the story of a desperate search. After a failed attempt to destroy Earth, the mysterious Drakh "poisoned the well" - they seeded Earth with a deadly plague. Thankfully, the Drakh did not have the time to set the virus for human biology, so it is having to adjust itself. It is estimated that the virus will wipe out all life on Earth within five years. Earth was placed under strict quarantine and the best ship in EarthForce, the Excalibur, was given the impossible task of trying to find a cure before the five years are up. Among the crew members of the Excalibur are its Captain, Matthew Gideon, and his Executive Officer, John Matheson.
WHILE HIS CHARACTER is still becoming clear, there are some things that we do know about Lieutenant John Matheson. John is the first Telepath to be allowed into EarthForce since the disbanding of the Psi Corps. He has wanted all his life to be in EarthForce and is determined to succeed, both as an individual and as an example of how telepaths can work alongside "normals".
"THIS IS LIKE A TRIAL PROGRAMME," explains series creator J. Michael Straczynski, "and if it works, they'll keep it going. There are a lot of senators who are very suspicious about this whole thing who are saying, 'If it doesn't work, we're putting everything back; we'll just control it better this time!'" (Quote from Spectrum Magazine)
JOHN IS VERY LOYAL to Captain Gideon, at least in part because Gideon gave him the chance to prove himself as an officer. He served as Gideon's First Officer on his previous ship.
To continue, click HERE.

Go to Part 3 by clicking HERE.




Any questions regarding the content, contact Asian American Artistry
site design by Asian American Artistry
Copyright © 1996-2003 - Asian American Artistry - All Rights Reserved.